ASPS-MTI Plastic Surgery Accelerator is Expanding for 2023!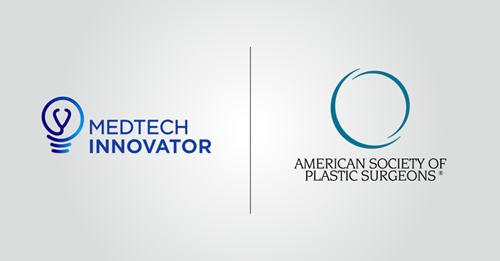 Entrepreneurial American Society of Plastic Surgeons members and residents who are in the start-up or early (up to C-round funding) commercialization stages of creating a medical device, diagnostic or digital health company are encouraged to apply to be one of five ASPS-sponsored companies to compete for a share of $500,000 in cash prizes and awards through the MedTech Innovator accelerator program.
This opportunity is offered to members through a partnership between ASPS and MedTech Innovator, the largest accelerator of medical devices in the world. MedTech Innovator matches healthcare industry leaders with innovative medical technology startups for mentorship and support. In 2023, MedTech Innovator will select 50 medical technology start-ups – including five (two more than in 2022) from the Plastic Surgery Accelerator Track – to participate in its annual Accelerator and Showcase cohort.
"The ASPS partnership with MedTech Innovator gives our members a phenomenal opportunity to bring their devices, apps, technology and other innovations to market," says ASPS President Gregory Greco, DO. "We have expanded the program this year to advance five companies from the Plastic Surgery Accelerator Track as there was clearly an appetite for this type of program among our innovative specialty."
Last year, the inaugural Plastic Surgery Accelerator Track drew dozens of applications, of which 10 companies were selected to participate in a judging event that advanced the top three plastic surgery start-ups to participate in MTI's corporate mentorship program and compete among 50 finalists for a share of $500,000 in cash and prizes at the MedTech Conference, powered by AdvaMed.
Applications for the ASPS-MTI Plastic Surgery Accelerator Track are now open. The application deadline is Jan. 31, 2023.
If you have any questions about the program or the application process, please contact Jennifer Cross, ASPS Staff Vice President of Business Development, at jcross@plasticsurgery.org or by telephone at 847-228-3320.
When submitting your application at www.medtechinnovator.org/apply, be sure to check "Plastic Surgery" as an area of focus.
Click Here To Submit Your Application
About MedTech Innovator

Based in Los Angeles, MedTech Innovator is the world's largest accelerator of medical technology companies and the premier nonprofit startup accelerator in the medical technology industry. Its mission is to improve the lives of patients by accelerating the growth of companies that are transforming the healthcare system. MedTech Innovator matches healthcare industry leaders with innovative early stage and emerging growth medtech companies for mentorship and support.
For more information about MedTech Innovator, visit https://medtechinnovator.org/ and follow @MedTechAwards on Twitter and MedTech Innovator on LinkedIn. To receive industry insights and highlights about MedTech Innovator's portfolio companies, subscribe to its monthly newsletter.
Published at Mon, 12 Dec 2022 22:29:00 +0000